The vending machines can sell a great variety of products and provide convenient services for us and it is easy to see them at many street corners and public transport stations.
In the case of beverage vending machine, it fall into two major categories: the original type that pours the beverage into a cup, such as the freshly ground coffee vending machine, and the more recently developed type that delivers prepackaged drinks. Today we focus on the latter one, which can sale beverages in bottles, cans and boxes.
PET bottle/Can drinks also can be sold by spiral vending machine, but its loading capacity was limited, which need to be refilled frequently. Easy Touch beverage vending machine equip with serpentine-type column. Serpentine racks are characterized by their high storage volume, extreme ease of loading; fastest delivery speed; no rival product has been developed to date.
These racks can store a diverse line up of products, varying from small coffee cans to 600 ml PET bottles; some vending machines can even sell as many as 36 types of beverages, with six six-track racks alongside each other.
The serpentine column is made of galvanized steel sheet, to maximize the depth of vending machines, 5 or 6-track of serpentine column is integrated as one unit rack, each set of beverage vending machine can hold 3 or 4 unit of these serpentine column racks.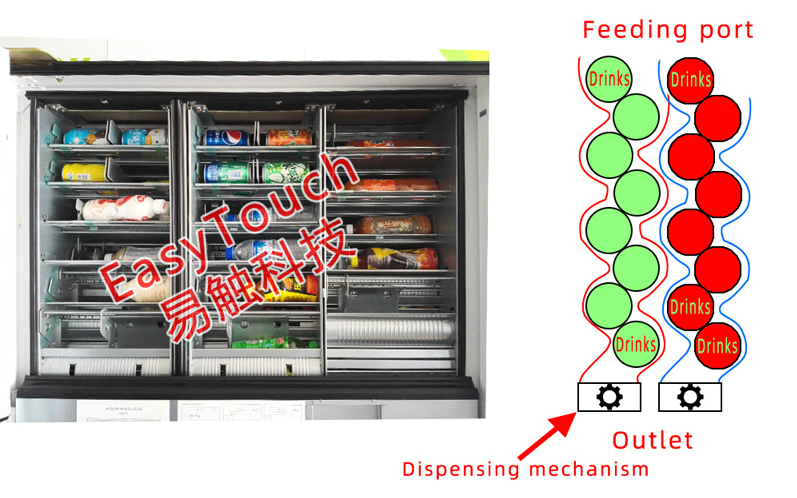 Mechanisms for storing and selling prepackaged beverages use a "first in first out" principle, with a column for each product type and using gravity to dispense products one at a time. Such kind of serpentine columns are very complicated, and it requires for high investment for molding at beginning, its components are difficult to be processed. Easy Touch has successive improvements on it, there are over 50000 sets of reliable beverage vending machine are serving in China. Only few of factories can manufacture this kind of vending machine.